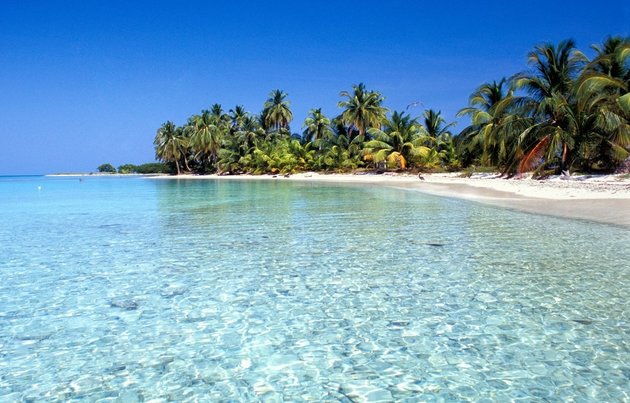 Belize City it is over 300 years old and serves as the main shopping area and port. It is the largest city in the country, and it is a mixture of colonial architecture, functional wooden buildings and historic cathedrals.
The attractions of Belize City include the oldest Anglican cathedral in Latin America, San Juan, and the Government House, the residence of Belize City's British governor, built in 1814. About 32 kilometers (20 miles) south of Belize City there is a zoo in western road, with more than 100 species of native animals, including monkeys, jaguars and tapirs.
Cerros is located on the edge of a beautiful stretch of blue-green water, which is ideal for water sports. Across the bay there is an archaeological site.
Dangriga (Stann Creek) which provides a good base for excursions to the islands and nearby forests. The natural fall of water can be seen in the Wildlife Sanctuary Cockscomb Basin located in the foothills of the Maya Mountains. Nearby there is a paradise for diving and snorkeling in a Southwater Caye.
Placencia is a village located at the tip of the 20km (12 miles) along the Placencia peninsula. Its sheltered lagoon and sandy beaches make it an ideal place for fishing, swimming and sunbathing.
The fishing village of Punta Gorda is the southernmost of Belize. 40km (25 miles) north of the Carretera Austral you can see the Mayan ruins of Nim Li Punit, with the highest carved stela in Belize.
Keys, Belize: The Keys are islands and / or mangroves located between the mainland and the barrier reef.
Although mangrove cays are usually uninhabitable for humans, they do provide an ideal habitat for birds and marine life. Cays or islands, which are distinguished by their palm trees, have provided the basis for water sports enthusiasts and marine naturalists.
Ambergris Caye, with its many beaches and the fishing village of San Pedro, is the most popular tourist destination.

Along with the other Cayes, it is a paradise for divers with access to one of the most pristine coral reefs in the world, Hoi Chan Marine Reserve is a popular dive site where you can stingrays and sharks.
Located 58 km (36 miles) north of the city of Belizean Caye Caulker you will find that it has an extensive system of underwater caverns that have become popular among divers, while those wishing to explore the reef without getting wet can see photographs of reef fishes in the museum.
At Half Moon Caye on Lighthouse Reef is the Bird Sanctuary, founded in 1982 to protect the booby and other birds and animals.
There are many other Cayes with facilities for those interested in fishing, diving and wildlife.
San Pedro is one of the more highly sought after destinations in Belize. Real Estate in San Pedro Belize is growing, and has a lot of opportunity for foreign investors. The low cost and minimal barriers to entry make San Pedro Town a popular choice for sun seekers.