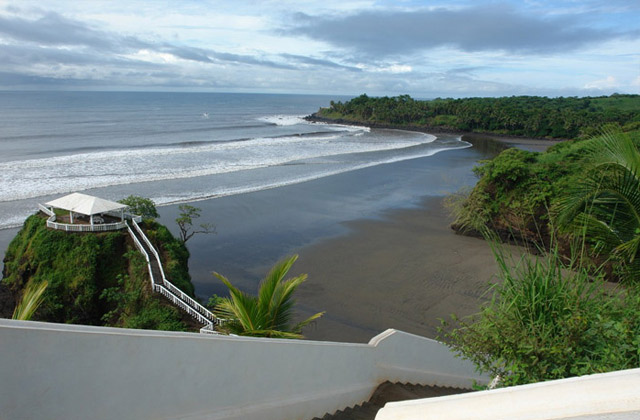 [ad#ad-160]
El Cuco beach is located in the department of San Miguel, in eastern El Salvador and is one of the most beautiful beaches in the country with its black sands in Chirilagua.
It is a popular place frequented by Salvadorans throughout the year, especially those who live in that part of the country, who enjoy the tranquility of its waters, with large areas of black sand.

Its 12 miles of black sand of the Cuco beach are of volcanic origin and has very few rocks, and its appearance is generally that of a great plain, with very shallow waters.
For the width and smoothness of its seaside, its sand without reliefs is very useful when practising football, volleyball or running, among other possible activities in this wonderful place.
We also found an area dedicated to sports tourism centre located west of the town, for there lies a very popular destination is the surf beach, and on the east is its long sandy seaside.
Also of note is the smoothness of its waves that allow us to go swimming, surfing and fishing, among several possible alternatives daily.
It is considered one of the best beaches in the country, because it has a very straight seaside, long and wide ideal for a full day of rest only or family to get away from everyday stress, because, in reality, El Cuco beach is a small village with just a few streets near the central park that faces the sea.
In El Cuco beach, there is a wide and varied cuisine in their small dining areas, as well as its various restaurants with seafood specialities, seafood freshly from the sea and with very affordable and tempting prices.
You can reach the Cuco beach by car, if you drive on the road El Litoral (CA-2) from Usulutan, you must find and take the road called "El Delirio" where you take it right in direction of El Cuco, La Union.
[ad#ad-336-280]
In this part of the journey all the way is well marked and in excellent condition to drive to the Cuco beach.
To get on a bus, you have two main options, coming from San Miguel, take Route 320, with travel and destination to El Cuco, Chirilagua and San Miguel, a ticket cost from U.S. $ 0.75 approx.
Or if coming from Usulutan, take Route 373, with the fate Usulutan and San Miguel Transit with a ticket cost from U.S. $ 0.75 approx.
Also, you can park and take a snack at any restaurant or resort that you like along the way before arriving at its beautiful destination at the Cuco beach.