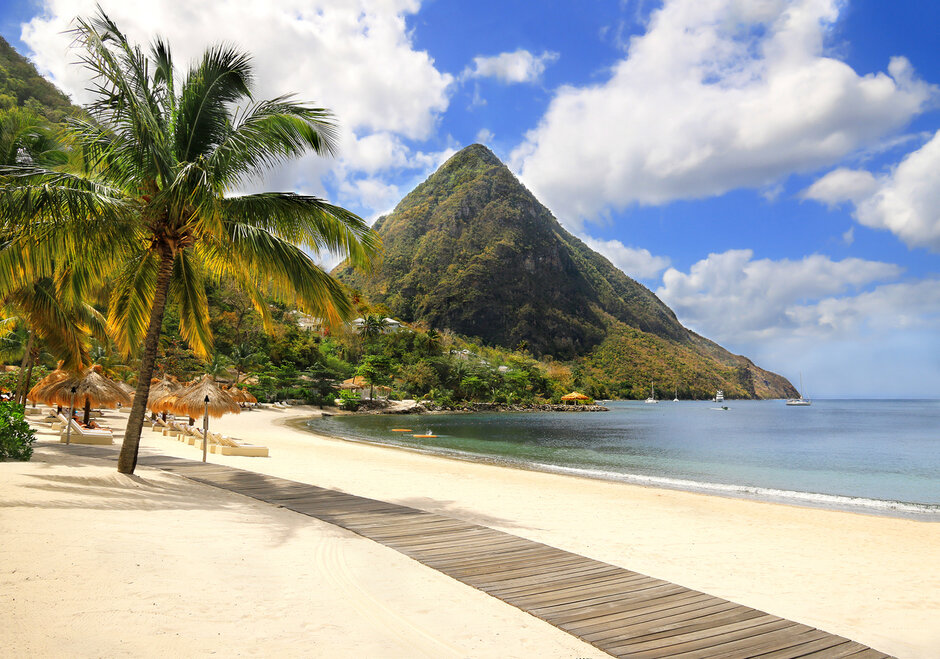 Travel information about St Lucia island:
Welcome to the captivating island of St. Lucia, a tropical paradise that beckons with its natural beauty, vibrant culture, and warm hospitality.
Situated in the eastern Caribbean Sea, this stunning destination offers a myriad of experiences that will leave you enchanted and rejuvenated. Whether you're seeking adventure, relaxation, or a blend of both, St. Lucia has something to offer every traveler.
In this introduction, we invite you to embark on a journey to discover the wonders that await you on this idyllic island.
Citizens of most countries do not need a visa to visit Saint Lucia for tourism purposes for a stay of up to 6 weeks.
In addition to a valid passport, all visitors to Saint Lucia must have proof of onward travel, proof of sufficient funds to cover their stay, and a completed health declaration form.
The best time to visit St. Lucia is during the dry season, which runs from December to April.
The currency in St. Lucia is the Eastern Caribbean Dollar (EC$). You can exchange your currency at banks, hotels, and some tourist shops.
Official language of St. Lucia is English, but French is also widely spoken.
St. Lucia is a safe country to visit, but it is always a good idea to be aware of your surroundings and take precautions against petty theft.
Be sure to try some of the local cuisine, such as jerk chicken, roti, and callaloo.
Places to visit
The Enchanting Pitons:
No visit to St. Lucia would be complete without exploring the iconic Pitons, a UNESCO World Heritage site. Rising majestically from the azure waters, these twin volcanic peaks, Gros Piton and Petit Piton, provide an exhilarating hiking experience. Scale the trails that wind through dense rainforests, navigating rugged terrain and experiencing the thrill of conquering these imposing peaks. At the summit, be rewarded with breathtaking panoramic views of the island's coastline and the Caribbean Sea, making for an unforgettable adventure.
Exploring the Rainforests:
St. Lucia's lush rainforests are a haven for nature enthusiasts, offering a rich biodiversity and an abundance of hiking opportunities. One such trail is the Edmund Rainforest Trail, located in the heart of the island. Embark on a journey through this verdant wonderland, where dense foliage, vibrant birdlife, and cascading waterfalls will captivate your senses. The Sulphur Springs Park and the Diamond Botanical Gardens also offer enchanting trails, where you can witness the wonders of the tropical rainforest up close.
A Dip in Natural Beauty:
St. Lucia is blessed with an array of natural wonders, including pristine beaches, secluded coves, and enchanting waterfalls. After a rewarding hike, take a refreshing dip in the cool waters of the island's natural pools and waterfalls. The Toraille Waterfall, located near Soufrière, is a popular spot, offering a rejuvenating cascade amidst lush greenery. The secluded Anse Chastanet beach, nestled between the Pitons, is another hidden gem where you can relax and soak in the untouched beauty of St. Lucia.
Discovering the Tet Paul Nature Trail:
For those seeking a less challenging yet equally rewarding hiking experience, the Tet Paul Nature Trail is a must-visit. Situated in the southwest of the island, this trail takes you on a gentle stroll through a working farm and a community-owned nature reserve. Along the way, learn about traditional farming practices, admire vibrant flora, and marvel at breathtaking vistas overlooking the Pitons and the Caribbean Sea. This family-friendly trail provides a glimpse into the cultural and natural heritage of St. Lucia.
Pigeon Island National Park:
Step back in time and immerse yourself in the historical and natural wonders of Pigeon Island National Park. Linked to the mainland by a causeway, this preserved historic site offers a combination of hiking trails and stunning vistas. Ascend to the highest point of the island for panoramic views, explore the ruins of Fort Rodney, and take a leisurely walk along the scenic beach. Pigeon Island is a testament to St. Lucia's rich history and natural beauty, providing a unique blend of adventure and tranquility.
Protecting St. Lucia's Natural Heritage:
As responsible travelers, it is essential to preserve and protect the natural beauty of St. Lucia. When embarking on hiking adventures, follow designated trails, respect wildlife habitats, and adhere to local regulations. Engage with local conservation organizations and support initiatives that promote sustainable tourism. By doing so, you contribute to the long-term preservation of St. Lucia's breathtaking landscapes, ensuring future.
Here are some of the best foods to eat when you visit St. Lucia Island:
Green figs and saltfish: This is the national dish of St. Lucia and is made with unripe bananas (green figs) and dried salt cod. It is often served with bakes, which are fried dough rolls.
Jumbie: This is a traditional stew made with meat, vegetables, and spices. It is often served with rice and peas.
Lambi: This is a dish made with conch, which is a type of shellfish. It is often stewed or fried and served with rice and peas.
Bouyon: This is a hearty soup made with meat, vegetables, and spices. It is often served with dumplings.
Callaloo: This is a soup made with spinach, okra, and other vegetables. It is often served with dumplings.
Fried plantains: These are ripe plantains that have been sliced and fried. They are often served with a dipping sauce.
Breadfruit: This is a starchy fruit that is often boiled or fried. It is often served with a dipping sauce.
Pepperpot: This is a stew made with beef, pork, and vegetables. It is often served with dumplings.
Banana cake: This is a sweet cake made with bananas, sugar, and spices. It is often served with a cup of tea or coffee.
Fry bakes: These are fried dough rolls that are often served with a variety of fillings, such as cheese, meat, or vegetables.
These are just a few of the many delicious foods that you can try when you visit St. Lucia Island. Be sure to explore the local cuisine and find your favorites!
There are many great places to stay in St. Lucia, depending on your budget and interests.
Here are a few suggestions:
For a luxurious stay:
Jade Mountain Resort
Sugar Beach, A Viceroy Resort
The Landings Resort and Spa
Anse Chastanet Resort
Sandals Grande St. Lucian
For a more affordable stay:
Bay Gardens Hotel
Coco Palm
Marigot Beach Club & Dive Resort
The Landings Resort and Spa – All Suites
Bay Gardens Marina Haven
Harbor Vista Inn
Royalton Saint Lucia, An Autograph Collection All-Inclusive Resort
Bel Jou Adults Only – All Inclusive
Harbor Club St Lucia, Curio Collection by Hilton
The prices of accommodation in St. Lucia vary depending on the time of year, the type of accommodation, and the location. In general, prices are higher during the dry season (December to April) than during the wet season (May to November).
Here's an article about the hidden places to visit in South America in your next travel. Our team write travel articles for to know where to go and tips for tourists.