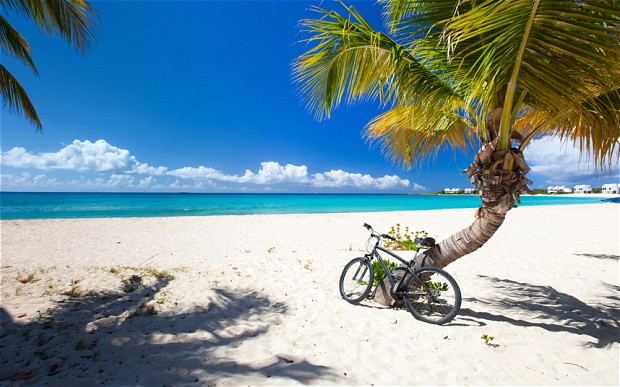 Best places for tourism in the middle of the ocean, tropical islands worth visiting any time in life.
[ad#ad-160]
These places are located in this section called the Best Tourist Caribbean Islands are not only great to sightsee but also for diving, and other activities taking place in the summer.
The island of Anguilla is one of the Caribbean's best kept secrets. While sailing fans have enjoyed its bays and inlets for decades, divers are discovering coral, wrecks and miles of shallow marine gardens.
Anguilla Island is located just three miles from San Martin and 190 miles east of Puerto Rico, the island of Anguilla is a small island, just 16 miles long and three miles wide, with a main road through picturesque villages, rows of similar houses existing in India, for its colorful, and full of fruit and vegetable stalls.
On the beaches are along its rugged coastline, white sand, a total of 30 beaches to enjoy.
Physically, Anguilla Island is predominantly lowland limestone formed and has several freshwater lakes. Small cliffs in the north are home to a variety of tropical birds, which include a bird called red beak, royal terns, kingfishers and gulls course.
The best time to visit Anguilla Island is from December to May.
Tropical storms produce an annual rainfall of 35 inches, and these are produced from July to October, although most storms occur during the month of September.
The temperature of the air and water in Anguilla Island are nice for diving exercise all year. Mean air temperature is 80°F. Water temperatures vary between 79° to 85°F.
There are many places to visit on the island of Anguilla. Depending on the type of holiday you want, you can choose to spend your time in one of the 33 beautiful beaches on the island or explore the many other places available.
Blessed with amazing coastline, Anguilla has some of the most attractive beaches in the Caribbean. The silky white sand, caressed by a turquoise ocean. This scenario is home to thousands of marine species, such as coral reefs and spectacular brightly colored fish.
Rendezvous Beach in Anguilla
For many this is the best beach in Anguilla due to its calm and warm waters. The coast is lined with luxury hotels, making this area the perfect destination for those who enjoy a lively atmosphere and directed exclusively towards tourists.
Shoal Bay in Anguilla
Another beach described by many as the favorite is Shoal Bay on the island of Anguilla. This beach looks silvery-white sands and beautiful corals in the deep waters. The atmosphere is serene and very different from other Caribbean beaches.
Come to Shoal Bay if you value peace and want to feel really close to nature Caribbean. Two miles of sand so soft your feet sink into it is your receipt. Shoal Bay in Anguilla is a refuge for those who feel trapped in the quick and lively environment of St. Maarten. Considered one of the best beaches in the Caribbean, Shoal Bay is the ideal place for a getaway regenerating.

[nggallery id=3 template=carousel images=4]
Maundays Bay in Anguilla
This beach on the island of Anguilla is home to one of the best resorts in the world, Cap Juluca.
The beach is wide with soft sand and clear waters. Although there are private beaches on the island of Anguilla, the combination that presents Maundays Beach has created an ideal place for those who want a beautiful beach that is remote and therefore that is not far from basic amenities.
[ad#ad-336-280]
Swimming at the beach is a real treat, especially when you look at the beauty of Cap Juluca, with its Greco-Andalusian architecture and brilliance of white that adorns every detail of the structure.
Island Harbor Beach in Anguilla
If you want a quiet beach to rest and relax, Island Harbor Beach in Anguilla will be the antidote to all your stress. This beach is off the map of tourists and therefore less crowded than the others. A walkway runs along the Turquoise Coast Island Harbor Beach, rocky areas and medium waves. After resting in its white sands, I swim in its waters complete your experience.