Visiting Jamaica is a great adventure
Beyond its virgin coats, its crystal clear waterfalls, its beautiful coral reefs, its coffee plantations, its sugar cane and reggae heritage, the Caribbean island surprises all of its visitors because of the great number of treasures that Jamaica hides.
Discovering them is just a matter of time and desire. Here we will show you 5 Jamaican cities, very different from each other that are worth knowing. Would you join us?
[ad#ad-160]
Kingston
It's hard to explain how Kingston is Jamaica's capital, so it's better to know it in person.
It was founded in 1692 after the destruction of Port Royal due to an earthquake and nowadays is the seat of government of Jamaica and the economic capital of the island.
However, from a touristic point of view, Kington is also very interesting due to its wide cultural, educational and leisure offers. After all, here you can find more museums, events and restaurants than in any other corner of the island.
You can do whatever you want to do in Kingston.
From walking on a historical mansion like Devon house and visiting the National Gallery (with the best local art) to going to a play on the Little Theater or explore the greatest botanical gardens in the Caribbean (Hope Gardens, Museo Coconut o Sunken Gardens) and the beautiful Blue Mountains.
Of course, we can't forget that in the ghetto of Trenchtown, in Kingston, reggae was born, which is why the Bob Marley Museum is a must to visit, the universal myth of these Jamaican rhythms.
Did you know that it is the most visited site in Jamaica?
Ocho ríos
This city is located in the north of Jamaica and it is every shopping lover's dream.
Here the traveller will find from luxury shopping centres to traditional shops where you can find
fascinating souvenirs.
Nevertheless, Ocho ríos is also the paradise for those who love ecotourism on vacation time. This Jamaican region has exuberant and pure nature.
It has spectacular waterfalls, such as Dunn's River Falls that form gentle pools between the rocks and invite everyone to a refreshing dip. We also find parks where the beauty of nature reaches its maximum splendour.
This is the case of Shaw Park or Cobaya Park.
Mystic Mountain has the perfect mix of bucolic forests and adventure, which result in an amusement park with nature as a backdrop, where you can find zip lines, chairlifts and sledges to enjoy the wonderful scenery and the spectacular sea views.
A must visit in Ocho Rios is also Dolphin Cove, where nice animals (and others like blankets and sharks) live. The visit to this space allows you to interact with the dolphins and take a bath with them. Undoubtedly, a unique experience where photos and videos are assured.
Montego Bay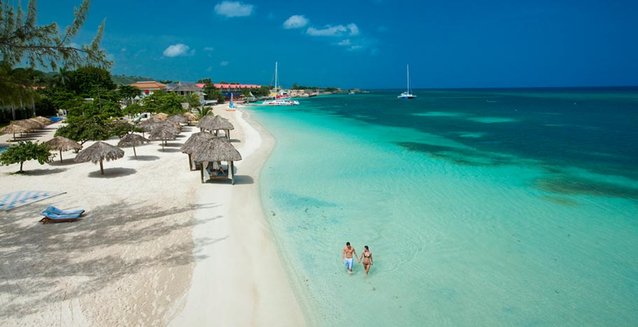 Montego Bay is the 2nd most important Jamaican city, and it is the right place to start a tour through Jamaica. This is a tourism dedicated place, in which you can find whatever you need to enjoy unforgettable vacations.
Montego Bay is the perfect destination for those who dream of spending a few days resting, lying on the beach and drinking mojitos. Its white sand beaches offer hours of relaxation, sunshine and even healing properties as it is said to have the beach of Doctor's Cave.
'MoBay' is also known for being one of the prettiest places on Jamaica, where you can find amazing things to see, like historical houses and castles.
[ad#ad-160]
Negril
Negril is a synonym of a party and relax. It has one of the prettiest beaches in the world:
Negril's beach. This place is famous for its busy nightlife. Reggae rhythms are constant in many places in this city.
Some of the most important sites to visit in Negril are its coral rock cliffs, the colourful handicraft market next to Norman Manley Boulevard, the Negril lighthouse and the Royal Palm Reserve.
Without a doubt, it is one of the most spectacular destinations, which is why it is the favourite destination for many young Danish people to escape from routine, to which our Danish friends from trend him affirm.
Jamaica's south coast
Famous for its secret beaches and beautiful virgin landscapes, Jamaica's south coast is a real treasure.
The region is full of picturesque fishing villages and many elaborated Georgian architecture that reminds us of how life was in the origins of that Jamaica, where trade routes and old farms have been transformed into hotels.
This area is also known for its historical sugarcane plantations, which are very close to Savanna-La-Mar port city.
From here we can jump into a tour of Jamaica's longest navigable river, cliffs of almost 500 meters long and the tallest cascades on the island as well as a largely protected wetland infested with crocodiles.
This article was written by our collaborator Abby.