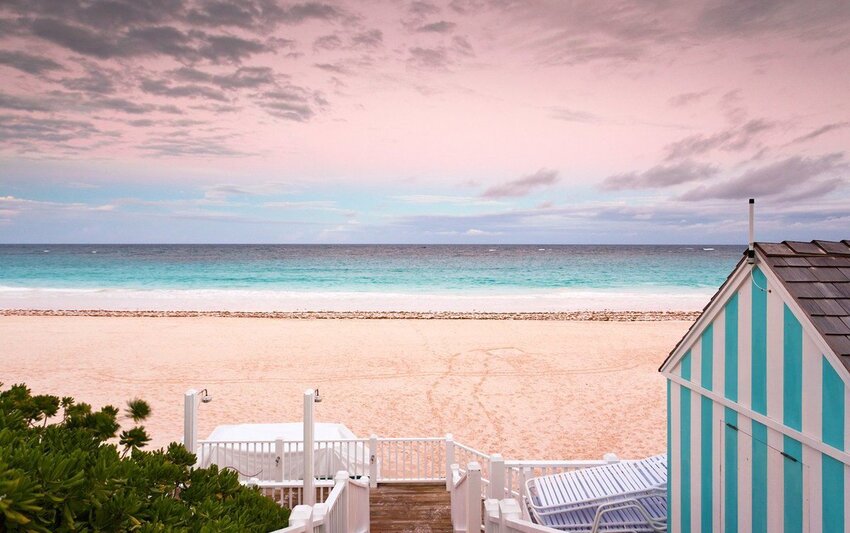 Eleuthera island in the Bahamas islands is the perfect spot for vacations.
Located approximately 80 km from Nassau, the island, with a thin shape, provides a breath taking scenery and a wonderful beach.
Beaches: Eleuthera Island is celebrated for its breathtaking beaches, which boast crystal-clear turquoise waters and powdery white sand. Some of the most famous beaches include Pink Sands Beach in Harbour Island, renowned for its soft pink sand, French Leave Beach in Governor's Harbour, known for its tranquility and seclusion, and Ten Bay Beach, a family-friendly spot with shallow waters and gentle waves. Whether you seek solitude or adventure, Eleuthera's beaches cater to various preferences.
Natural Wonders: Beyond its beaches, Eleuthera Island boasts a wealth of natural wonders. The Glass Window Bridge is a must-visit attraction where the Atlantic Ocean and the Caribbean Sea dramatically converge, creating a striking contrast of deep blue and turquoise waters. The Leon Levy Native Plant Preserve offers a glimpse into the island's diverse flora and fauna, with nature trails leading through lush landscapes and rare plant species.
Settlements: Eleuthera Island is dotted with charming settlements that showcase the island's rich history and vibrant culture. Governor's Harbour, the largest settlement, features colonial-style architecture, colorful houses, and a lively local market. Spanish Wells, a small fishing village, exudes a quaint charm and offers opportunities for boating, fishing, and exploring local seafood delicacies. Additionally, the village of Gregory Town is known for its pineapple farms and the annual Pineapple Festival, celebrating the island's sweetest fruit.
Water Activities: The crystal-clear waters surrounding Eleuthera Island are perfect for water-based activities. Snorkeling and diving enthusiasts can explore vibrant coral reefs, underwater caves, and an abundance of marine life. The island's Atlantic coast offers excellent conditions for surfing, while bonefishing enthusiasts can try their luck in the shallow flats.
Local Cuisine: Eleuthera Island boasts a delectable culinary scene influenced by its Caribbean roots. Visitors can savor fresh seafood delicacies, including conch salad, cracked conch, and lobster dishes. Don't miss out on trying the local specialty, pineapple tart, a delicious dessert showcasing the island's pineapple harvest.
Getting to Eleuthera Island:
By Air: The most convenient way to reach Eleuthera Island is by air. The island is served by North Eleuthera Airport (ELH), which receives regular domestic flights from Nassau, the capital of the Bahamas, as well as direct flights from Miami. You can book flights with major airlines or regional carriers that operate in the Bahamas. Upon arrival at North Eleuthera Airport, you can proceed to explore the island using available transportation options.
By Sea: Another option to consider is traveling to Eleuthera Island by sea. There are ferry services available that connect Eleuthera to nearby islands like Nassau, Spanish Wells, and Harbour Island. The Bahamas Fast Ferries service offers regular trips between these destinations, providing an opportunity to enjoy a scenic journey across the beautiful turquoise waters of the Bahamas. It's important to check the ferry schedules in advance and plan your trip accordingly.
Transportation on the Island: Once you've arrived on Eleuthera Island, there are several transportation options to help you get around and explore the various attractions:
Rental Cars: Renting a car is a popular choice for visitors who want to have flexibility and independence during their stay. There are several car rental agencies available on the island, and it's advisable to make a reservation in advance, especially during peak travel seasons. Driving is on the left side of the road in the Bahamas, and be sure to have a valid driver's license and follow the local traffic rules.

Taxis: Taxis are readily available on Eleuthera Island, particularly at the airport and in major settlements. It's recommended to negotiate and agree upon the fare with the driver before starting your journey. Taxis can be a convenient option for shorter trips or when you prefer not to drive.

Private Shuttles: Some resorts in Eleuther Island offer private shuttle services to and from the airport. If you have made arrangements with a specific place to stay, it's worth inquiring about any shuttle services they provide.
Exploring the Island: Eleuthera Island stretches over a significant distance, so having transportation is essential for exploring its various attractions. The island offers stunning beaches, charming settlements, natural wonders, and more, all waiting to be discovered. It's advisable to plan your itinerary in advance, considering the distances and travel times between different points of interest.
Remember to check for any travel advisories or guidelines before your trip, as these can change over time. It's always a good idea to have travel insurance and keep important documents and contact information readily accessible during your journey.
By following these tips and making the necessary arrangements, you can have a smooth and enjoyable journey to Eleuthera Island, where a world of natural beauty and relaxation awaits you.
The pink sand on the beaches provides a wonderful feel to your feet and ideal for taking short walks.
While there you will also notice that the water is crystal clear and very ideal for swimming, snorkeling and any other water sport you would like to indulge in.
Eleuthera Island offers a variety of activities not only for water sport lovers but also for nature lovers.
You will get a chance to rock climb on cliffs and go on adventure in the sea.
The other wonderful thing about this island is that it only has one road, Queen's highway, this makes it very easy for tourists to find their way to their various vacationing spots without getting lost.
You should also take a boat ride while here.
There are boat tours that can organize this for you.
This will give you a chance to do some fishing, snorkeling to a bed of starfish.
There are a lot of sea creatures you will see while snorkeling. It is quite breathtaking.
While vacationing here you will notice that the people in this area are very laid back and very friendly.
This makes it a very conducive environment if you are looking for a place to rest from the usual hustle and bustle of life.
While there just sit back and relax, enjoy the pampering you will receive from the locals.
Eleuthera island also boasts of very beautiful villas, wonderful resorts with the most outstanding hospitality will keep you wanting more.
And that is why the visitors keep coming back for more, year after year.
The food served is expertly made to suite your every dietary needs and while enjoying your meal.
You will also get to sample a variety of tropical drinks made from papaya, pineapples and melons. You will also get to listen to a variety of reggae music.
Pineapple plantations are also in plenty so if you love pineapples then you are in luck because yup will get to sample a variety of pineapple recipes.
Below the Eleuthera island map
You will also get to take part in their annual pineapple festival in the summer in George Town. Eleuthera Island is full of natural beauty that is a must see for anybody who loves nature and a person looking to relax
Information about Eleuthera island
Eleuthera has 518 square kilometers and is located in the northeast of the archipelago, has a long and narrow shape, and has about 8000 inhabitants according to the census conducted in 2000
The island had great prosperity between 1950 and 1980 by the investments made by rich American industrialists. Currently the main economic activity is tourism.
The transport is mainly by air and sea. The island has three airports: North Eleuthera Airport, Governor's Harbour Airport and Rock Sound Airport.