Eleuthera island in the Bahamas islands is the perfect spot for vacations.
Located approximately 80 km from Nassau, the island, with a thin shape, provides a breath taking scenery and a wonderful beach.
The pink sand on the beaches provides a wonderful feel to your feet and ideal for taking short walks.
[ad#ad-160]
While there you will also notice that the water is crystal clear and very ideal for swimming, snorkeling and any other water sport you would like to indulge in.
Eleuthera Island offers a variety of activities not only for water sport lovers but also for nature lovers.
You will get a chance to rock climb on cliffs and go on adventure in the sea.
The other wonderful thing about this island is that it only has one road, Queen's highway, this makes it very easy for tourists to find their way to their various vacationing spots without getting lost.
You should also take a boat ride while here.
There are boat tours that can organize this for you.
This will give you a chance to do some fishing, snorkeling to a bed of starfish.
There are a lot of sea creatures you will see while snorkeling. It is quite breathtaking.
While vacationing here you will notice that the people in this area are very laid back and very friendly.
This makes it a very conducive environment if you are looking for a place to rest from the usual hustle and bustle of life.
While there just sit back and relax, enjoy the pampering you will receive from the locals.
Eleuthera island also boasts of very beautiful villas, wonderful resorts with the most outstanding hospitality will keep you wanting more.
And that is why the visitors keep coming back for more, year after year.
The food served is expertly made to suite your every dietary needs and while enjoying your meal.
You will also get to sample a variety of tropical drinks made from papaya, pineapples and melons. You will also get to listen to a variety of reggae music.
Pineapple plantations are also in plenty so if you love pineapples then you are in luck because yup will get to sample a variety of pineapple recipes.
Below the Eleuthera island map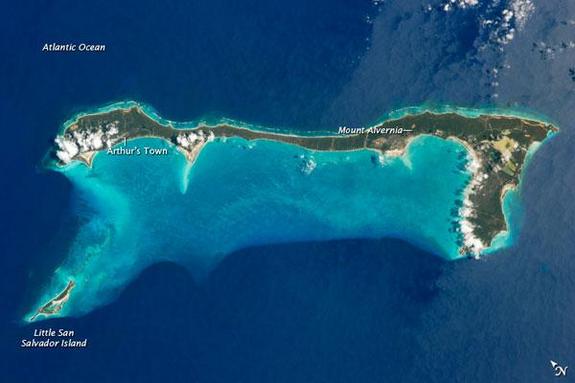 You will also get to take part in their annual pineapple festival in the summer in George Town. Eleuthera Island is full of natural beauty that is a must see for anybody who loves nature and a person looking to relax
Information about Eleuthera island
[ad#ad-336-280]
Eleuthera has 518 square kilometers and is located in the northeast of the archipelago, has a long and narrow shape, and has about 8000 inhabitants according to the census conducted in 2000
The island had great prosperity between 1950 and 1980 by the investments made by rich American industrialists. Currently the main economic activity is tourism.
The transport is mainly by air and sea. The island has three airports: North Eleuthera Airport, Governor's Harbour Airport and Rock Sound Airport.