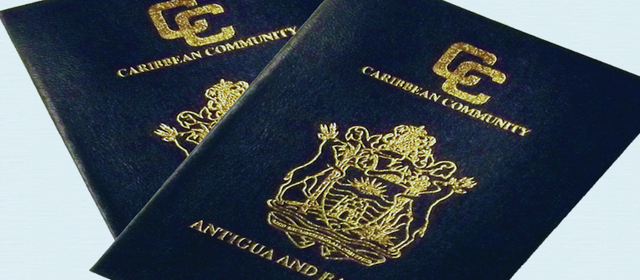 "The citizenship by investment programme of Antigua & Barbuda is ranked #1 in the Caribbean region with a visa-free score of 122 countries"
[ad#ad-160]
Obtaining passports for almost all EU and the member states is relatively difficult. A report from the UN World Tourism Organisation concluded that more or less 76 percent of the world's population require a visa before entering Europe.
Germany takes the lead with a visa-free score of 157 followed closely by Sweden, Italy, Switzerland and Finland. The Passport Index; initially introduced by Arton Capital launched new ranking standard that'll position the strength of each passport individually.
It's known as Individual Passport Power Rank that determines the outcome through three-tier method.
The technique syndicates "visa-free" travel ranking along with "visa on arrival" ratio and country's score as recognised by the United Nations Development Programme Human Development Index. It considers international jurisdiction perceptions.
The latest Welcoming Countries Rank compares states on their welcome level from best to worse.
The Antigua citizenship by investment programme along with its visa is highly significant on the Caribbean scale.
Besides visualising the passport's importance, the Passport Index offers this ultimate opportunity to discover the Global Mobility Score as well as compare different passports next to evaluating a total number of visa-free states that can be visited.
The president of Arton Capital, Armand Arton has this to say;
"Individuals around the world consider their passports a barrier towards success and moving forward for a better lifestyle.
They choose to empower their global footprint and identity through investment in a country and second passport is one way to do so"
He further cited:
[ad#ad-160]
"Today is the era of increasing mobility and becoming a Global Citizen is a norm. Investment in second citizenship or residency programme is a step towards liberation and empowerment that comes with a set of responsibilities"
A look at Passport Index
Passport Index is currently the most powerful and prominent online interactive tool that can collect, display and rank different passports of the world.
The moment new standards pertinent to passport rankings come forth; the index is updated accordingly so expect real-time grading. With it, visitors are able to dive deep into the fascinating world of passport, explore various designs and classify them per the state, the particular region as well as through colour. Visitors, for the first time, are able to compare different passports sequentially.
Antigua & Barbuda: Utopia for second passport and citizen
Much like other immigration investor programs, qualification standards vary as per the government funds, property purchase and independent businesses.
The late 90's is known as the era in which real estate prices across the world went sky-high supported by cheap capital.
Antigua citizenship by investment welcome international community being a luxurious Caribbean destination! The foreign community count over the years seems to have risen and it's usually the result of island's spectacular natural aesthetics, a comfortable lifestyle and of course, visa-free travel to many global states.
Conclusion
With such a strong ranking of citizenship and passport, investment in Antigua is ought to prove worthier in coming times.