The Virgin Islands are a tropical paradise, renowned for their stunning beaches, crystal-clear waters, and rich cultural heritage. Whether you're looking for a relaxing getaway or an adventure-filled trip, the Virgin Islands offer a diverse range of experiences to suit every traveler. In this comprehensive guide, we'll provide you with valuable tips and expert advice to plan an unforgettable vacation in this idyllic destination. From the best time to visit to must-see places and exciting activities, we've got you covered. Let's dive in and discover the magic of the Virgin Islands.
Best Time to Visit:
The Virgin Islands boast a pleasant tropical climate year-round, making it an enticing destination at any time. However, the peak tourist season is from December to April when the weather is at its best with lower chances of rain and moderate temperatures. This period also coincides with the island's high season, resulting in more visitors and higher prices.
If you prefer a quieter and more budget-friendly experience, consider visiting during the shoulder seasons from May to June and November. The off-season, from July to October, may have more rain and occasional hurricanes, but it also offers great deals and fewer crowds.
Here are some of the top must-visit places to include in your itinerary: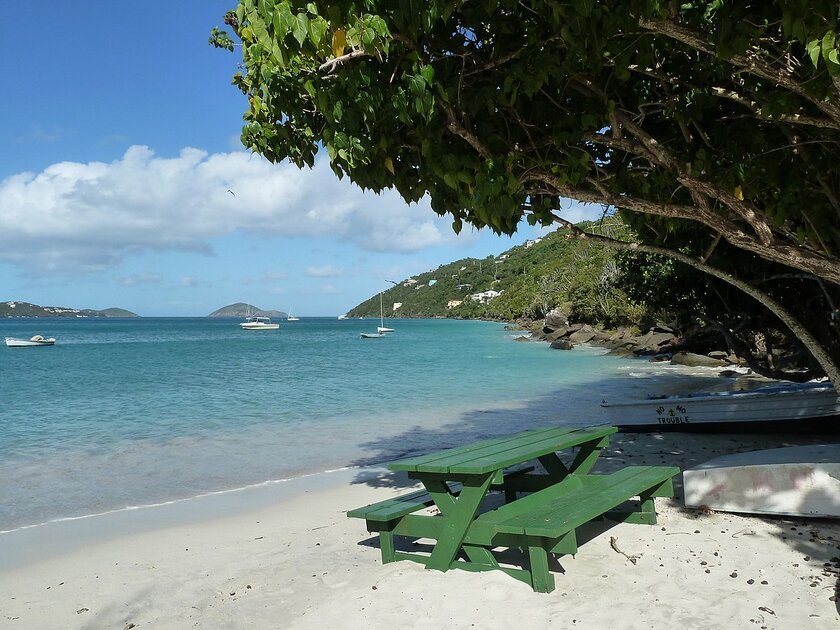 Magens Bay (St. Thomas):
Considered one of the most beautiful beaches in the world, Magens Bay is a must-visit destination in St. Thomas. Its mile-long stretch of powdery white sand, fringed by lush greenery and crystal-clear waters, offers a picture-perfect setting for relaxation and water activities. Enjoy swimming, snorkeling, or simply basking in the sun at this iconic beach.
Trunk Bay (St. John):
Located within the Virgin Islands National Park, Trunk Bay is a postcard-worthy beach with its soft sand and calm, turquoise waters. The underwater snorkeling trail, marked by informational plaques, allows you to explore the vibrant marine life and colorful coral reefs up close, making it a paradise for snorkelers and nature enthusiasts.
Virgin Gorda and The Baths (British Virgin Islands):
A short ferry ride from the main islands will take you to the British Virgin Islands, where you'll find Virgin Gorda and its famous attraction, The Baths. The Baths is a series of giant granite boulders forming picturesque grottoes and pools, creating a unique landscape for exploration and relaxation.
Buck Island Reef National Monument (St. Croix):
For an extraordinary snorkeling experience, head to Buck Island Reef National Monument in St. Croix. A protected marine reserve, this pristine area offers a diverse marine ecosystem, including elkhorn coral formations and a wide variety of marine life. The underwater trail leads you to a magnificent underwater world that will leave you in awe.
Blackbeard's Castle (St. Thomas):
Step back in time at Blackbeard's Castle, a historic site that offers captivating views of Charlotte Amalie, St. Thomas' capital city. The castle is part of a 17th-century Danish watchtower and showcases relics and artifacts from the island's pirate history. Don't forget to climb the famous "99 Steps" staircase for a rewarding panoramic view of the city and harbor.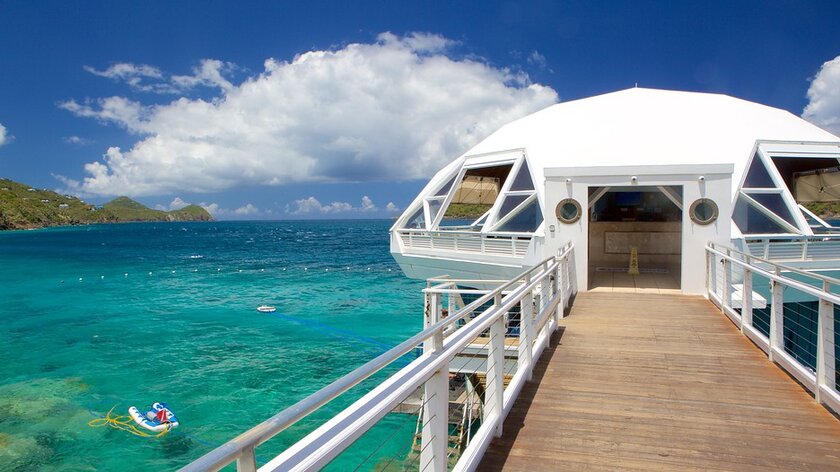 Coral World Ocean Park (St. Thomas):
Ideal for families and marine enthusiasts, Coral World Ocean Park offers an interactive experience with marine life. Explore the underwater observatory to observe colorful fish and marine creatures in their natural habitat. Get up close with sea turtles, sharks, and rays, and even try snuba diving to explore the underwater world without the need for scuba certification.
Annaberg Sugar Plantation Ruins (St. John):
For a glimpse into the island's historical past, visit the Annaberg Sugar Plantation Ruins in St. John. This well-preserved site provides insights into the island's sugar-producing era and offers stunning views of nearby islands and turquoise waters.
Christiansted (St. Croix):
Discover the charm of Christiansted, a historic town with Danish colonial architecture and vibrant Caribbean culture. Stroll along the cobblestone streets, visit the Christiansted National Historic Site, and explore the local art galleries and boutiques.
Water Island (U.S. Virgin Islands):
Escape the crowds and visit Water Island, the smallest of the main U.S. Virgin Islands. This hidden gem offers a secluded beach, Honeymoon Beach, where you can relax, swim, and snorkel in tranquility.
Salt River Bay National Historical Park and Ecological Preserve (St. Croix):
Explore the unique ecosystem of Salt River Bay, an area of historical significance and ecological diversity.
Take a guided kayak tour through the bioluminescent bay at night to witness the magical glow of the water.
Accommodation and Travel Packages:
When it comes to finding accommodation and travel packages in the Virgin Islands, there are various options to suit every traveler's preferences and budget. Whether you're looking for a luxurious beachfront resort or a cozy vacation rental, the islands offer a wide range of accommodations.
Additionally, many resorts and hotels offer all-inclusive travel packages that bundle flights, accommodations, and activities, providing a convenient and cost-effective way to experience the best of the Virgin Islands.
These packages often include added perks like spa credits, water sports activities, or excursions to nearby islands. Alternatively, travelers can opt for boutique hotels and vacation rentals for a more personalized and immersive experience, allowing them to connect with the local culture and support the island's communities.
With numerous accommodation options and travel packages available, planning a dream vacation in the Virgin Islands is made simple and rewarding.
In the Virgin Islands, you'll find a diverse range of accommodation options to suit different budgets. From luxurious resorts to budget-friendly options, the islands offer choices for every traveler. Let's explore the expensive and low-cost places to stay in the Virgin Islands:
Expensive Places to Stay in the Virgin Islands:
Exclusive Resorts: The Virgin Islands boast several world-class resorts offering top-notch amenities, private beaches, and breathtaking ocean views. These exclusive properties provide a luxurious and indulgent experience for those seeking the ultimate tropical getaway.
High-End Hotels: Upscale hotels in popular tourist areas like St. Thomas and St. John offer lavish accommodations, upscale dining options, and impeccable service. Many of these hotels feature private villas and suites with private pools, perfect for honeymooners and couples looking for a romantic escape.
Private Villas: For a truly luxurious experience, consider renting a private villa in the Virgin Islands. These opulent residences often come with private chefs, butlers, and access to exclusive amenities, providing an unparalleled level of comfort and privacy.
All-Inclusive Resorts: While all-inclusive resorts can be pricey, they offer a hassle-free vacation experience with meals, drinks, activities, and entertainment included in the package. Many all-inclusive resorts in the Virgin Islands provide access to private beaches and water sports facilities.
Low-Cost Places to Stay the Virgin Islands:
Budget Hotels and Motels: There are budget-friendly hotels and motels scattered across the islands, especially in less touristy areas. While these accommodations may lack some of the frills of high-end resorts, they offer clean and comfortable rooms at affordable rates.
Hostels and Guesthouses: Backpackers and budget travelers will find hostels and guesthouses in St. Thomas and St. John offering shared dormitory-style accommodations or private rooms at lower prices. These options are ideal for socializing with fellow travelers and saving on lodging expenses.
Vacation Rentals and Airbnbs: Consider booking vacation rentals or Airbnbs for a more affordable and authentic experience. Renting a condo or apartment can be cost-effective, especially for families or groups, as it allows you to prepare your meals and enjoy the comforts of home.
Campgrounds: Adventurous travelers can opt for campgrounds available in the Virgin Islands. Camping is a budget-friendly way to experience the islands' natural beauty and connect with nature, with several campsites offering beachfront locations.
Beach Hopping and Water Activities:
The Virgin Islands boast some of the world's most breathtaking beaches, and beach hopping should be at the top of your itinerary. Enjoy the powdery white sands and turquoise waters of Magens Bay in St. Thomas or indulge in a serene beach experience at Honeymoon Beach in St. John.
For water activities, snorkeling and scuba diving are a must-do in the Virgin Islands. Explore the colorful coral reefs and encounter diverse marine life, including sea turtles, rays, and tropical fish. If you're an adventure seeker, try paddleboarding or kayaking to discover hidden coves and pristine lagoons.
Immerse Yourself in Local Culture:
The Virgin Islands have a vibrant cultural scene with a mix of African, Caribbean, and European influences. Attend local festivals and events, such as the St. Thomas Carnival or the Crucian Christmas Festival in St. Croix, to experience the lively music, dance, and delicious Caribbean cuisine.
Explore the local markets and try traditional dishes like conch fritters, johnnycakes, and fresh seafood to immerse yourself in the authentic flavors of the islands.
Day Trips to Nearby Islands:
While each of the main Virgin Islands offers a unique experience, consider taking day trips to nearby islands to expand your adventure. Take a ferry to the British Virgin Islands and visit the famous Baths in Virgin Gorda or enjoy a scenic sailing trip around Jost Van Dyke.
Alternatively, explore the smaller U.S. Virgin Islands like Water Island or Buck Island to escape the crowds and discover hidden gems.
A vacation in the Virgin Islands promises an unforgettable experience filled with natural beauty, rich culture, and exciting adventures. By following our expert tips and advice, you can plan a seamless and memorable trip to this Caribbean paradise.
From exploring the must-visit places and indulging in water activities to immersing yourself in the local culture, the Virgin Islands offer a dreamy getaway for every type of traveler.
So pack your bags, embrace the warmth of the sun, and get ready to create cherished memories on your Virgin Islands vacation.