[ad#ad-160]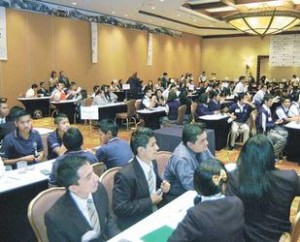 On the 5th. consecutive year Junior Achievement (EJ), with support from Bank of America Central (BAC Credomatic), implemented the Virtual Management, in which twelve educational institutions participated in the simulator of a company. During the program, young people developed their skills in making pricing decisions, production volume, marketing, investment in plant and investment in research and development.
Young people developed their skills in making business decisions as pricing, production or marketing.
The dynamics.
The executive director of Junior Achievement, Jose Herrera, said he turned an invitation to principals of schools order to propose the idea. Then he visited the facilities to train students on the simulation of a virtual enterprise management. Then it made an internal selection to choose the 2 best teams from each center and that these represent their school in the semifinal.
At this stage reached 24 teams, including, for the results obtained in making decisions as a team and how to manage the simulated company, obtained the pass eight of them. Of these, the Classical Lyceum was the first place and the Institute of Marketing and Advertising, the second.
He stressed that the intent of the program is to train, motivate and train new generations for their successful incorporation into the economy. "You must teach the future potential of the country how to generate wealth to promote the development of Guatemala, and the important thing is that students form skills that enable them to make choices in life," said Herrera.
Responsible decision
The Manager of Corporate Social Responsibility and Corporate BAC Credomatic Guatemala, Andrea Figueroa, pointed out the importance of this simulator students involved, allowing them to make decisions as a team and know that every decision has its consequence, for what they learn to take responsible decisions.
[ad#ad-336-280]
At the discretion of the executive, is very important partnership with Junior Achievement, as BAC sought their CSR work in relation to the financial section and in this state found the contacts and the proper way to approach young people. "They have the approach and we have the platform and managers who manage volunteer resources management," he said.
BAC's work, in addition to sponsoring the program, accompanied with a guide or voluntary financial instructor, who helps the boys to compete. Significantly, the first of establishments are given a Netbook award, the second place scholarship of English for a year in the Guatemalan American Institute (IGA) and third place, a cell phone.